Pitbull Puppies for Sale in Louisiana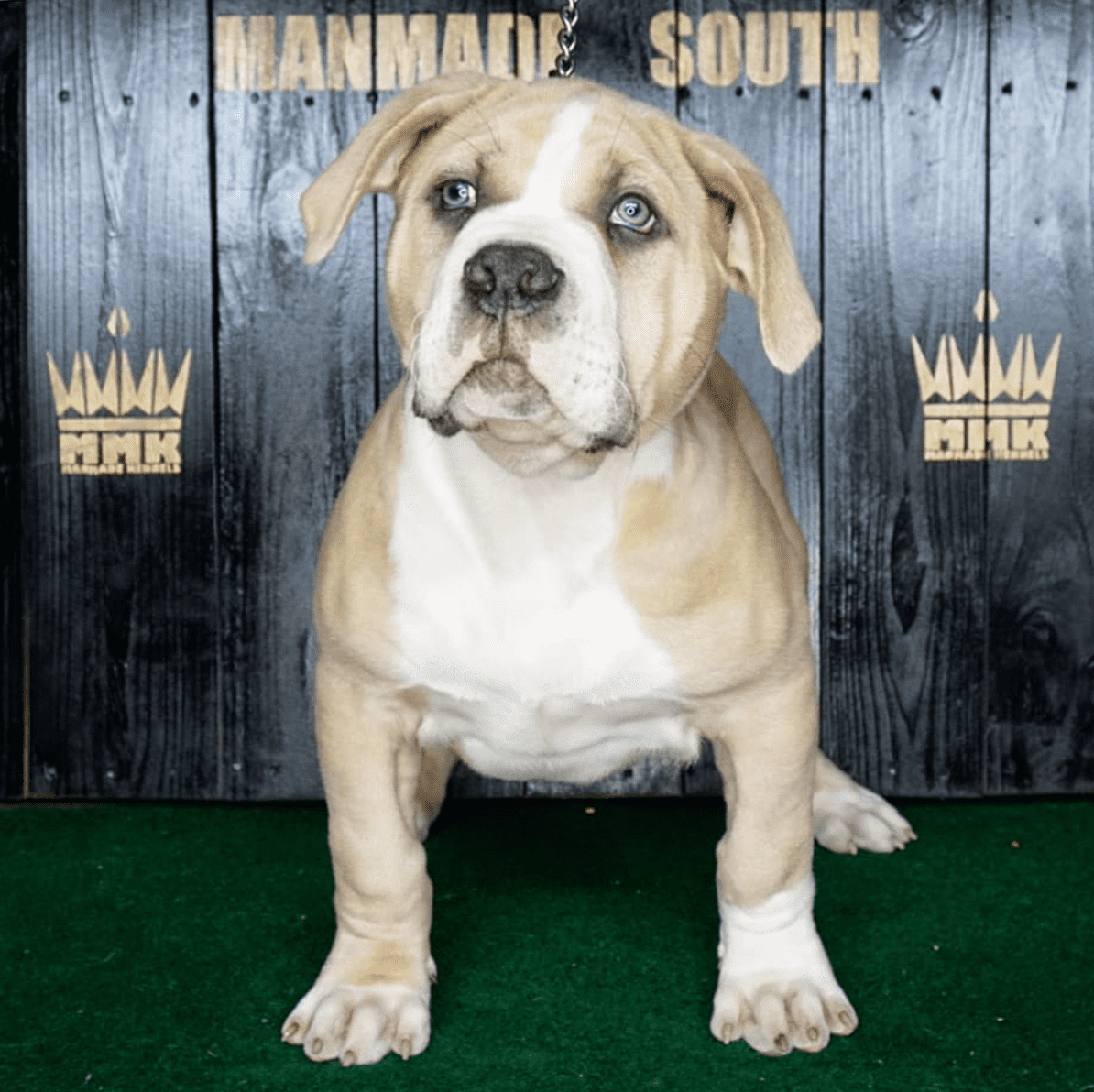 ---
We are home to the best pitbull puppies for sale in Louisiana. As Manmade Kennels, we professionally breed and ship our pitbull puppies to all cities in Louisiana. Our Pitbulls for sale are well-trained, fed a high-quality diet, and are 100% health guaranteed puppy Pitbulls for sale for individuals and families.  
In your quest for finding pit bull pets, you probably have come across several ads for American pit bull terrier puppies for sale in Louisiana. You have received all kinds of offers including some tempting ones that say pitbull puppies for sale $250 or pitbull puppies for sale $500. So how do you know you are picking the best Pitbulls for sale in Louisiana?
Take it from us, any online ad that claims puppy pitbulls for sale in Louisiana under $500 is probably a scam. We are professional pitbull breeders and have been at it for the past 10 years. We know the HARD WORK that goes into breeding the best pitbull puppies with BIG Heads, BIG BONES, BIG MUSCLES, and the best TEMPERAMENT.
Pitbull puppies for sale in Louisiana prices
Before you consider pitbull for sale prices, find out if you are buying from a legitimate breeder. We at Manmade Kennels pride ourselves as professional, honest, and friendly pitbull breeders. We have a 60-acre land in Oklahoma where we breed and raise all our available pitbull puppies. Also, we have affiliate Manmade Kennels pitbull breeders in Texas, Dallas, California, Delaware, and Alabama.
A healthy puppy pitbull bred by the finest breeders in Louisiana will fetch at least $3000. Then you have to consider things like pitbull bloodlines, breeder popularity, breeder location, and rarity of the pit bull breed, especially the blue-eyed pitbull puppy.
 At Manmade Kennels, our prices are competitive and you get to go home with a healthy and fun-loving puppy. Call us today and we will take you through our available pitbull puppies for sale in Louisiana.
XL Pitbulls for sale near me in Louisiana
Your search ends here if you are looking for Pitbulls puppies near me or pitbull breeders near me. Our puppy pitbulls for sale in Louisiana are available in different colors. We have blue nose pitbull puppies for sale with Merle coats. Also, we breed red nose Pitbulls with champagne or fawn coats. Our tri-colored pitbull puppies are a favorite with new customers too.
We are ready to hand-deliver to your doorstep in any city in Louisiana state. Reach us if you are looking for pitbull puppies for sale in New Orleans, Baton Rouge, Metairie, and Shreveport. We also hand-deliver pitbull puppies for sale in Alexandria, Louisiana, and Kenner, Monroe, and Lake Charles. As long as you want Louisiana pitbull puppies for sale, we are confident we can deliver.
Health guarantee puppy Pitbulls for sale
We do not recommend Pitbulls for sale under $500 because you are likely to purchase a sickly pup. At Manmade Kennels, we guarantee you a healthy pitbull puppy that is vaccinated, dewormed and comes with all its health records updated. We are different from other pitbull breeders because we help you craft a healthy raw diet for your dog and recommend the best pet supplements for Pitbulls. When you add our top 5 pitbull workouts, your pitbull puppy will seldom have health issues.
Are you ready to bring home one of our puppy pitbulls for sale in Louisiana? 
It doesn't get easier, you just get better.
Sure, it's nice to eat a Triple Baconator with extra cheese for dinner every night, but maybe some broccoli and light calisthenics are a better choice in the long run.