The toughest part of making homemade dog food is balancing the nutrients. Here is a list of dog supplements for homemade food that ensures your dog eats healthy.
As more pet parents discover the dangers of commercial dog food, raw homemade dog food is taking center stage. But even with homemade diets, prior knowledge of how to balance the ingredient is required.
And it is not easy. Especially with how complex canine nutrition can be. Fortunately, we have researched for you and discovered the best dog supplements for homemade dog food.
But first, let us answer an important question.
Why dog supplements for Homemade food?
Supplementing your dog's diet will be necessary if;
He does not have much variety in his diet. The more diversity a dog has in its diet, the higher the chances of receiving all the necessary nutrients and the less supplementation required.
Your dog eats cooked or frozen food. Extreme hot or cold temperatures destroy nutrients in food. Also, extreme temperatures destroy live enzymes in food that help with many metabolic functions
Your dog's diet does not contain enough calcium. The only way to ensure your pup gets enough calcium from his homemade diet is by serving him meaty bones. It is also assumed that your dog consumes all the bones in his meal.
Follow these three rules and you never have to worry about your dog being nutrient deficient. Yet, with busy schedules and changing diet needs, it can be hard to keep up.
The solution, therefore, is dog supplements for homemade food. Bear in mind that dogs are different when it comes to nutrition needs. But once you get the equation right for your dog, you never have to worry about his nutrition.
But first…
Consult a trained veterinary nutritionist before giving your dog any supplement. A veterinary doctor who knows a lot more about canine nutrition can help you plan your dog's homemade diet. They will also evaluate your dog's health history and know which dog supplement ingredients are healthy for him.
The best dog supplements for homemade food
Homemade dog food is healthier than commercial kibble. Yet, your pup can come up short of the nutrition he needs even on a homemade dog diet.
The secret lies in finding the right ingredients that make up dog supplements for homemade food. There are homemade recipes that carry all the vitamins and minerals necessary for your dog's growth. And we were caring enough to put together a homemade dog food recipe cookbook with all the right ingredients.
We proceed with identifying the best dog supplements for homemade dog food. The ingredients to target include;
Protein supplements
Multivitamin supplements
Calcium
Vitamin A & E
Hip & Joint supplements
Omega-3 fatty acids
Protein supplements
Proteins are the building blocks for muscle in your dog. Sourcing the highest protein ensures your pup gets all the amino acids he needs. Generally, dogs need all 22 amino acids to stay healthy.
It is impossible to find all these amino acids in one type of protein. Which is why you have to switch things up. Also, only feed your dog with high-quality unaltered proteins. Meat by-products are not the best proteins for dogs. Quality human grade meat is the best because it is fresh, lean, and unaltered.
Multivitamin supplements
This is a cocktail of vitamins and minerals your dog needs. They are a lot but we are going to cover a few of them. The top important multivitamin dog supplements for homemade food include;
Calcium
Vitamin E
Vitamin A
Calcium
Dogs need a constant supply of the mineral calcium right from when they are puppies. Puppies need calcium to build strong bones and a sturdy skeletal structure. Adult dogs need to maintain healthy bone density to support growing muscle and body weight. Older dogs are at risk of joint problems and diseases so they need all the calcium they can find.
In a nutshell, puppies and aging dogs need more calcium than adult dogs. Have that in mind when determining how much calcium supplement your pooch needs.
Vitamin A promotes organ health. It is also the main vitamin that helps your dog see better at night. This vitamin helps your dog to absorb calcium better. You can read more about vitamin A here.
Vitamin E is what your dog needs to have healthy skin and coat. Dog nutritionists suggest supplementing vitamin E if your dog takes a lot of plant or fish oils. Vitamin E. Dogs with active lifestyles need more vitamin E in their system. Learn more about vitamin E dosage here.
Hip & joint supplements
Calcium is one important mineral that promotes a healthy skeletal structure and prevents hip and joint problems in dogs. Another secrete vitamin your pup needs is vitamin D. Vitamin D keeps joints and hips lubricated and prevents joint inflammation. Older dogs need vitamin D3 to maintain healthy bone density.
Cod liver oil is a great source of vitamin D. This oil is a great alternative if you cannot get a hold of fresh fish. We have more information on vitamin D here.
Fatty acids
Omega 3 is a healthy fat that humans and pets need. This fatty acid has several benefits for dogs. Puppies need Omega 3 for brain and eye development. Also, Omega 3 prevents canine brain disorders in older dogs.
We have an all-under-one-roof solution!
Granted, it can be hard balancing dog supplements in homemade food. Keeping up with your dog's diet needs can be hectic with our busy lives. Since you do not always have time to go to the stores, there is a good chance your pup is getting by with what is available.
It does not have to be that way. It is possible to give your dogs the vitamins and minerals he needs every day without breaking a sweat or the bank. The answer is in Bullyade dog supplements for homemade food.
Why Bullyade?
Bullyade is a healthy dog supplement that has all the vitamins and minerals your pup needs. Each Bullyade bottle packs all the 22 amino acids that your dog needs for healthy muscle. What's more, Bullyade has loads of electrolytes to rehydrate your dog.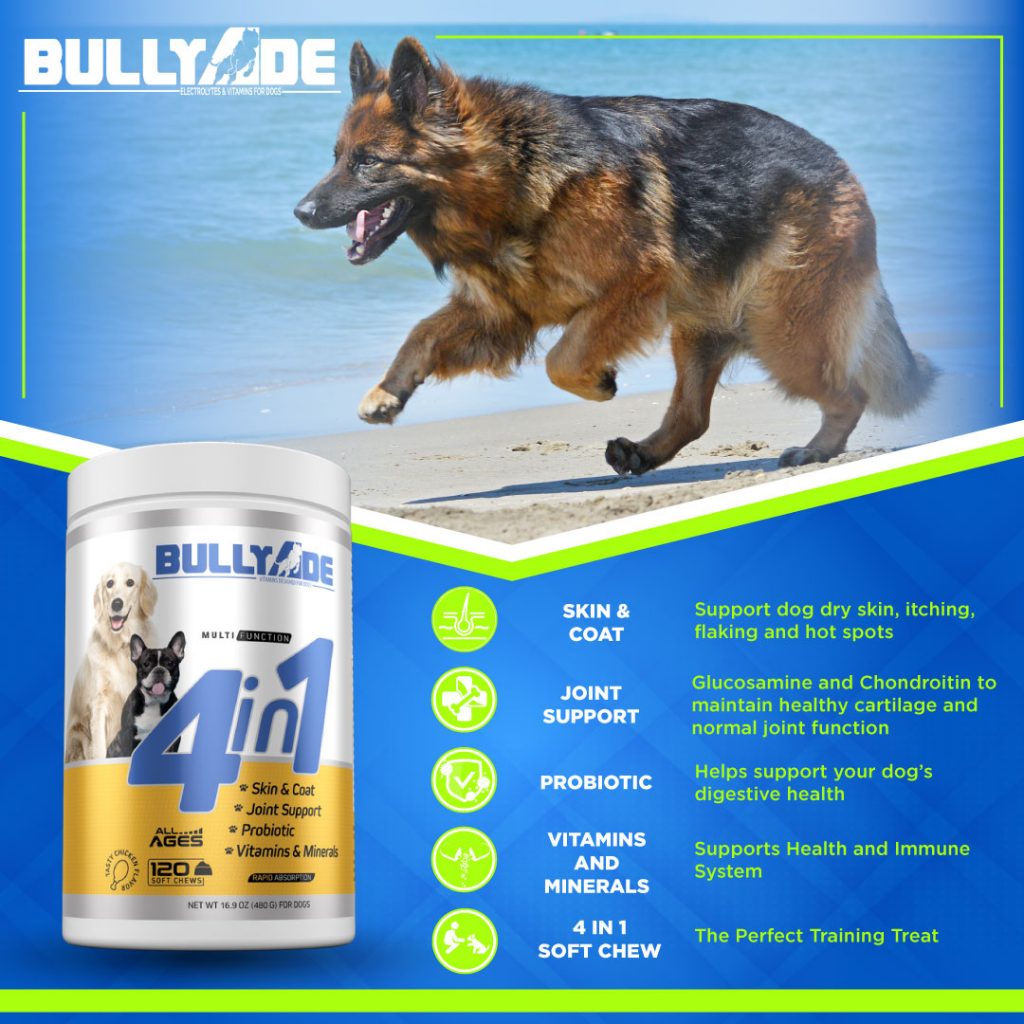 We recommend Bullyade dog supplement for pups that are suffering from;
Coccidia
Parvo
Vomiting and diarrhea
Dehydration
Bullyade has enough vitamin D found in fish oil and salmon. It contains Omega 3 and a bonus of Omega 6 fatty acids. Bullyade is a great way to nourish your dog if his current diet is missing important nutrients.

We only scratched the surface, get the full benefits of Bullyade dog supplements for homemade food here.
I am a highly skilled content writer and SEO expert with a passion for helping small businesses succeed in the digital world. With my extensive knowledge of the latest SEO techniques and strategies, I have successfully assisted numerous clients in improving their website rankings, generating more leads, and driving a significant increase in website traffic.
As a professional content writer and SEO expert, I am confident in my ability to contribute significantly to the success of small businesses. If you are seeking a results-driven, highly skilled digital marketer who can help you increase your ranking, convert new leads, and see a substantial improvement in website traffic, I would welcome the opportunity to collaborate with you.
Website: https://digitalmarketingchap.com/
Email: hello@digitalmarketingchap.com