Best Bully Puppies on Earth!!
Pitbull Puppies For Sale in Massachusetts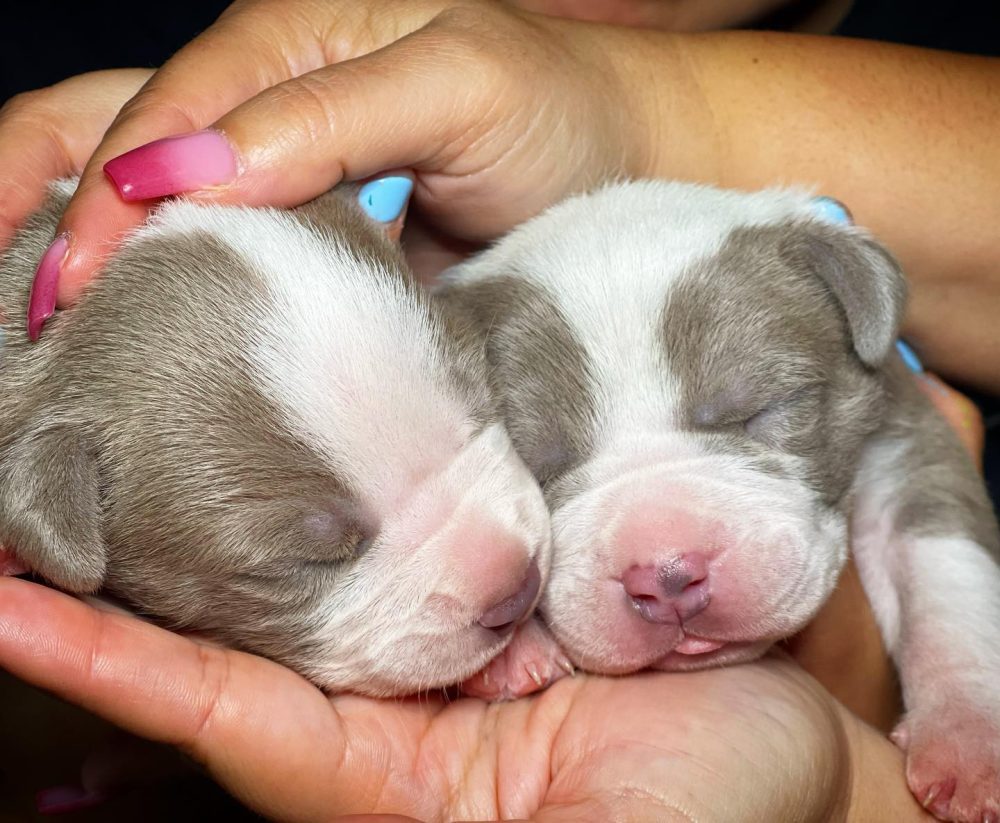 We have some of the most BIG, MUSCULAR, HEALTHY, and SWEET-NATURED pitbull puppies for sale in Massachusetts.
Manmade Kennels has, for the past decade, professionally bred XL American bully puppies for sale in Massachusetts that are, pound for pound, the largest, strongest, and yet gentlest American bully dogs.
Professional pitbull breeders in Massachusetts
Manmade Kennels creates some of the greatest XXL American pitbull pips in the world! We breed American bully xl puppies with strong, blocky heads, tight muscles, tremendous drive, and good temperaments. We have been breeding bully-style pit bulls in the United States since 2006.
Our first dog was a lovely blue nose pit bull that we loved to bits. However, we noticed that this dog had a strong prey drive and loved to explore every nook and cranny in our neighborhood (sorry neighbors!). This gave us the idea to breed American bully pits that are gentle, loving, eager to please, and without the strong prey drive.
That is how Manmade Kennels was born.
Today our  reputation precedes us as we have sold puppies to individuals, families, as well as A-list celebrities.
CLICK TO SEE AVAILABLE AMERICAN BULLY PUPPIES
Beautiful American Bully Puppy Colors
We are home to the most beautiful blue nose pitbull puppies and red nose pitbull puppies. Other amazing puppy colors in our breeding program include fawn, brindle, white, black, champagne, Merle and various tri color shades.
Manmade Kennels has one of the most professional pitbull breeding programs, and as much as we love the beautiful coat colors we produce, we strongly prioritize on health, physical characteristics, and temperament in our pitbull puppy breeding program.
RED NOSE XXL BULLY PUPPIES

MERLE XXL BULLY PUPPIES

BLUE NOSE XL BULLY PUPPY

TRI AMERICAN BULLY XL PUPPY
Pitbull puppy health
All of our American bullies for sale are on a strict diet of their mothers' milk for the first four weeks of life. At 3 ½ weeks, we wean the puppies to solid foods with healthy options such as ground meat or chicken, egg, and goat's milk.
The solid food feedings are gradually increased until the baby is totally independent of the mother. However, we still let our puppies suckle until they are 5 weeks old. By doing this, we allow the puppy to continue receiving vital antibodies from the mother's milk to strengthen their developing immune system.
LEARN MORE ABOUT OUR BREEDING PROGRAM
As part of the bully puppy breeding process, we ensure that all our pups are vaccinated and dewormed before you adopt them as a family pet. Deworming starts when the puppies are 4 to 8 weeks old and we are always monitoring our pups for any health problems.
Deworming helps eliminate parasites that the bully pup may have contracted from their mother. We keep our whelping area clean and sanitized to ensure you never adopt a sickly pup.
After 6 to 12 weeks, all our American bully pups are vaccinated for added protection against diseases like coccidia, parvo, Type 2 adenovirus, parainfluenza, and canine distemper. We also vaccinate against deadly diseases like rabies and hepatitis.
We assure you that the puppy you adopt will be up-to-date with its vaccine shots. and will have no health issues
OUR 4 WEEK OLD BULLY PUPPIES
CLICK TO SEE AVAILABLE BREEDINGS
We hand-deliver pitbull puppies for sale in Massachusetts
Manmade Kennels has partnered with the best pet transport company to hand-deliver pitbull puppies for sale in Massachusetts cities. Call us if you are looking for pitbull puppies for sale Boston MA, Cambridge, Salem, Lowell, Worcester, Newton, New Bedford,  and Fall River. We also ship American bully puppies for sale to Brockton, Lynn, Quincy, Springfield, Attleboro, Lawrence, Haverhill, Malden, Chicopee, Medford, and Leominster.
Whether you are in Peabody, Methuen, Northampton, Taunton, Revere, Somerville, Barnstable, or anywhere in Massachusetts, Manmade Kennels will deliver a healthy and preloved pitbull puppy to your doorstep!.