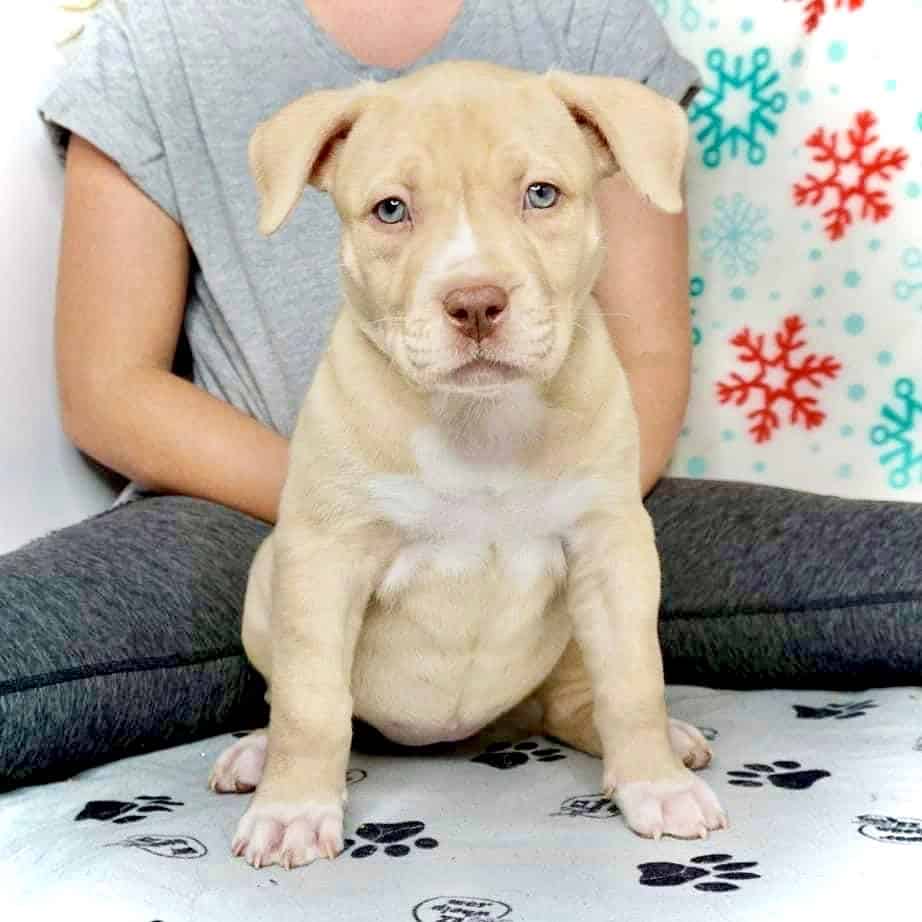 What's poppin' Florida? If you are looking for pitbull puppies for sale in Florida city or other cities within Florida state, your search ends here. Manmade Kennels hand delivers pitbull puppies to Florida, its surrounding cities, and worldwide. Our American bully puppies are well-fed, analyzed for health, trained by professionals, and socialized to be family dogs.
Call 302-272-3625 (MMK's Edward) for pricing information on our American pitbull terrier puppies.
American bully XL puppies in Florida
We selectively choose the studs and dams we use in our pitbull puppy breeding program. Our pitbull puppies have BIG HEADS, BIG NECKS, HEALTHY BODIES, and MILD TEMPERAMENTS. One of our pitbull studs, King Leonidas, is a massive beast but is gentle and loves people. He loves the outdoors and takes every chance to be goofy. You can see King Leonidas below in his natural element.
Our red nose pitbull stud, Leonidas, sires the best champagne pitbull puppies for sale in Florida. We also have Shadow, our blue nose pitbull responsible for all the blue pitbull puppies we showcase live on our pitbull puppies for sale page.
CLICK TO SEE AVAILABLE PITBULL PUPPIES
You can read more about our dogs here.
Best Pitbull puppies for sale in Florida

If you are looking for American bully XL puppies in Florida, we recommend adopting from professional pitbull breeders. Avoid buying pitbull puppies from puppy mills or backyard breeders. Granted, there are American bully breeders with classifieds like 'pitbull puppies for sale in Florida Craigslist'. While some are legit, others may be out to get your money. Your due diligence is necessary.
Fortunately, Manmade Kennels have been breeding the finest Pitbulls made for families since 15 years ago. We started with a game-bred blue nose pitbull dog, but today we have sold pitbull puppies to over 367 clients who are now part of our Manmade Kennels Family.  Our pitbull puppies are raised on a healthy American bully raw diet and trained by our in-house K9 professional K9 trainer, ManMade Kennels David at (616) 405-5344.
We deworm, vaccinate, and check all our puppies for diseases, infections, or defects. Also, we raise our puppies on the best pitbull puppy supplement in 2020, Bullyade. Bullyade currently has a new product, 4-in-1 Soft Chews for Dogs, that is great for training puppies.
We ship pitbull puppies to Florida
Are you looking for pitbull puppies for sale in Florida? As Manmade Kennels, we hand-deliver all our puppy Pitbulls to any city in Florida. Our puppies are gentle, mild-mannered, and perfect for families or individuals looking for a new furry friend to live with. When you adopt from us, we guarantee your puppy will not be problematic or cause trouble with your neighbors. 
We ship red nose bully puppies and blue nose bully puppies for sale in Florida cities like Jacksonville, Naples, Sarasota, and St Petersburg. Call us if you need pitbull puppies for sale in Miami, Tampa, Tallahassee, and West Palm. Also, we hand-deliver American bully xl puppies to Orlando, West Palm Beach, Key West, Fort Myers, and Daytona Beach. CALL US TODAY!