Pitbull Puppies For Sale in Delaware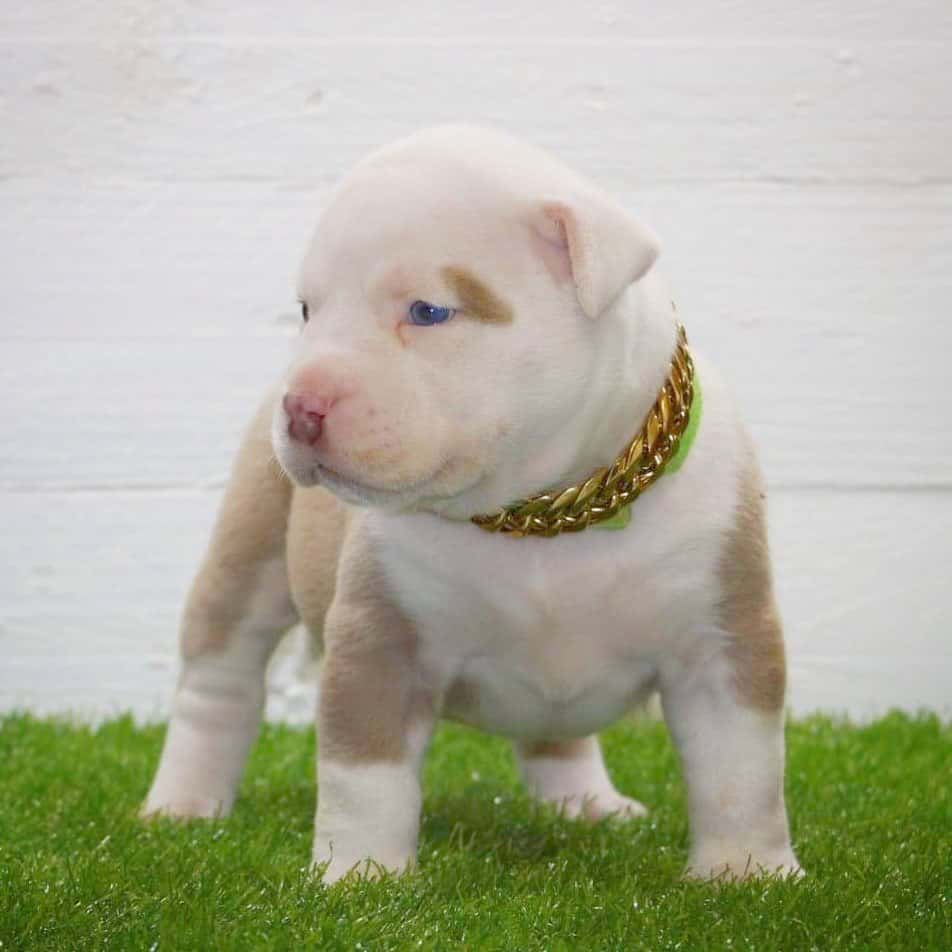 Howdy Delaware!
You finally found the right place for adopting the finest pitbull puppies for sale in Delaware. As Manmade Kennels, we professionally breed American bully puppies and American bully XL puppies for individuals and families. Unlike puppy mills and backyard puppy breeders, we ensure you get value for money by delivering a health-guarantee pitbull puppy bred for families with a playful and sweet-natured temperament.
Our pitbull puppy breeding history
As Manmade Kennels, we have been in the pitbull puppy breeding business for the past 10 years. When starting, we didn't know much about pit bulls, and most of our early breeding practices were out of trial and error. Along the way, we did plenty of research on how to care for pitbull puppies. We eventually uncovered the best pitbull puppy diet, pitbull puppy workouts, and pitbull puppy supplements that produce CONFIDENT and MUSCULAR Pitbulls in the world.
Today Manmade Kennels has grown to incorporate other affiliate Kennels in the USA and Worldwide. We have Manmade Kennel family members in Oklahoma, California, Mississippi, Florida, New Jersey, Texas, Europe, and Belgium. Our independent Manmade Kennels pitbull breeders are available for puppy viewing and will hand-deliver pitbull puppies in their city or surrounding states. Call us today!
Meet our pitbull puppies


When possible, we can arrange for a visit to our Pitbulls kennels so you can interact with our pitbull puppy litter. You will get to see our prized studs and dams that sire all the red nose pitbull puppies and blue nose pitbull puppies that are lucky to have a home with us. Also, we do often have Merle pitbull puppies, Brindle pitbull puppies, fawn and champagne pitbull puppies.
Manmade kennels, we produce the best XL and XXL pitbull puppies. We breed American bully XL puppies with BIG HEADS, STRONG BONES, POWERFUL JAWS, and pounds of LEAN MUSCLE. Also, we selectively breed pitbull puppies to be docile and ideal for families and individuals. We also train American bully puppies to have police dog qualities.
Find the right pitbull breeder in Delaware.
Call 302-272-3625 (MMK's Edward) for pricing information on our American pitbull terrier puppies.
Finding pitbull puppies for sale in Delaware can be confusing for a first-time pitbull puppy owner. As Manmade Kennels, we make the puppy adoption process smooth and to the point. All our puppies are healthy, happy, and come with updated vaccination and deworming records. We also give you the pedigree certificate alongside all the necessary documents required for puppy adoption.
 As Manmade Kennels, we are nothing like the unscrupulous puppy mills or cruel backyard puppy traders who are out for profit. We care about our American bully XL breeding program and want our pit puppies to end up in loving homes. For this reason, we screen all our potential pitbull buyers before we allow them to adopt from us.
A good breeder will let you know everything about their new pit puppy litter. All our puppies are trained and socialized to get along with people and families. They do not have a strong prey drive but are docile, as is the nature of American bully XL puppies.
As responsible pitbull breeders, we will schedule a meeting to get to know you better. You can ask us all the questions you have concerning pitbull puppies, and we promise to answer truthfully. Also, we will ask you a couple of questions to get to know you and your lifestyle. We do this to ensure that our pitbull puppies for sale in Delaware are going to loving homes with responsible humans.  
Before buying bully puppies for sale in Delaware
Find out if your family is okay with adopting a pit bull puppy as a family dog. Also, we encourage our potential pit bull owners to read up on what your local county laws say about adopting Pitbulls for sale as family dogs. If you cannot make it to one of our Pitbulls kennels, we can schedule a live meeting where you get to meet the puppies and their parents. Alternatively, head over to our social media page Manmade Kennels and see our bully breeders interacting with their puppies. On the other hand, kindly click the link below to see available pitbull puppies for sale.
Click to See Available Pitbull Puppies For Sale
We ship American bully xl puppies in Delaware.
Call us if you want a pitbull puppy shipped to your city in Delaware. We ship blue nose Pitbulls, red nose Pitbulls, or champagne pitbull puppies for sale to Wilmington, Dover, Newark, Bethany Beach, Lewes, and Rehoboth Beach. Also, we hand-deliver pitbull puppies for sale in Delaware cities like Wyoming, Millsboro, Middletown, and Claymont. Reach us if you are looking for pitbull puppies for sale near me in any of the Delaware cities. We can also ship outside the USA to Europe and other continents.