Pitbull Puppies For Sale in Atlanta
Pitbull Puppies Atlanta For Sale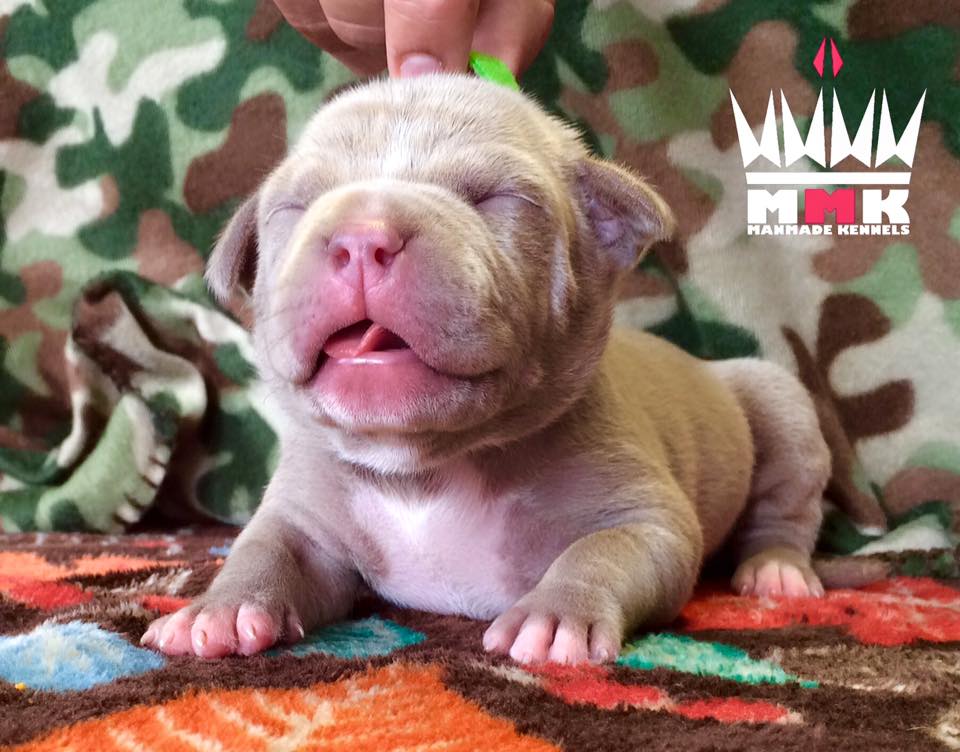 Wassup Atlanta!
You have come to the right place for the best Pitbull puppies for sale in Atlanta. As Manmade Kennels, we are professional Pitbull breeders producing big, strong, and healthy Pitbull puppies in Atlanta and beyond.
At Manmade Kennels, we treat everyone like family. We would love to welcome you to our pitbull kennels to see our amazing litter and also meet us in person.
But if you can't make it to us, we will come to you. We do deliver pitbull puppies in Atlanta personally or through one of our affiliate breeders. Give us a call and we will handle the rest.
CLICK TO SEE AVAILABLE PITBULL PUPPIES
XL Pitbull Puppies For Sale in Atlanta
We have pit bull puppies in a variety of coat colors. Lilac Pitbull puppies, blue Pitbull pups red nose bully puppies, champagne Pitbulls and so much more. We also have black, white, fawn, Merle, and tri-color bully Pitbull puppies for sale in Atlanta.
Our pit puppies have the smoothest coats you can find. We do show them a little TLC by taking them to professional groomers from time to time. We also have all our dogs on the best vitamins and supplements for a healthy shiny coat.
Also, we ensure that all our pitbull puppies are fed on a raw diet for dogs. This ensures they get all the vitamins and minerals they need directly from the food they eat as opposed to over-processed over-the-counter food.
Best Puppy Food for Pitbulls
100% Health Guarantee American bully puppies
All our puppies are dewormed and vaccinated before they are adopted into their new home. We vaccinate all bully puppies against common diseases like distemper, canine parvovirus, and coccidia.
Our Pitbulls kennels maintain the highest breeding standards and we are one of the few bully kennels that are 5-star rated for quality and exemplary service.
Click To SEE AVAILABLE BULLY PUPPIES
Bully puppies with amazing temperaments!
Our American bully puppies are the sweetest, fun-loving dogs on earth. We raise them on a large tract of land with endless fields for them to frolic. We socialize our puppies with people, pets, and other animals when they start walking and running on their own.
So when you adopt an American bully puppy from us, you are getting a pre-loved dog that will give you the best memories. Our American bully puppies for sale in New York are gentle, have less prey drive, and love people. They are very confident, high-energy, and will keep you on your toes. But they are not destructive nor do they suffer from separation anxiety.
Amazing American Bully Puppy Coat Colors
Looking for an American bully puppy in New York with beautiful coat color? Check out our American Bully Breeding Page for available puppies and their amazing coat colors. We have American Pit Bully terriers with blue, red, black, and white coats. We also have merle, fawn, and tri-color pitbull puppies.
Call 302-272-3625 (MMK's Edward) for pricing information on our American pitbull terrier puppies.
Pitbull for sale Atlanta
We hand deliver pitbull puppies to Atlanta cities. Looking for pitbull puppies near me in Atlanta cities such as Summerhill, Buckhead Village, Westview, and East Atlanta. We also ship pit bull puppies to Howell Station, Knight Park, Piedmont Heights, and Underwood Hills.
6 Week Old Healthy and Happy American Bully Puppies
Join The Manmade Kennels Family!!